Description
Promotionally priced CorelDRAW 2021 Graphics Suites licenses are for Corel Trainer Members only. Professional graphic design software for Windows. "One-Time Purchase" option.
*This Version 2021.5 may NOT be compatible with your OTHER plug-ins or drivers. Previous versions (CD2019 or CD2020) MIGHT still be available. Contact Corel Trainer at: Sales@CorelTrainer.com
Download (with updates) directly from Corel.com at: CorelDRAW 2021 web-page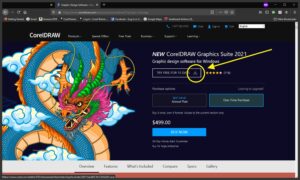 Download Directly through Corel.com at: www.coreldraw.com
Corel Trainer Students that are logged in can get CorelDRAW 2021 Graphics Suite at a discount!
Serial Number / Activation will be emailed within 24 hours. Email Sales@CorelTrainer.com or Call 602-319-3503 with questions.